A VPN is a private network of computers that uses public telecommunication infrastructure to provide individual users with secure access to their organization's network. When you use a VPN you are connecting to the remote host computer and from there you are accessing the network or internet using their I.P. (Internet Protocol) information and hiding your true location as well as encrypting all of your data such as your passwords, emails and anything you want to keep private because the connection is being done through a secure funnel. VPN's are normally used for corporate environments that allow employees of a business to gain access to the company's server with a secure and encrypted connection. A VPN encapsulates data transfers between two or more networked devices which are not on the same private network so as to keep the transferred data private from other devices on one or more intervening local or wide area networks. It is a computer network that is implemented in an additional layer over an existing network. It has the purpose of creating secure tunnels between workstations located in different parts of the world.
To put it quite simply...
A VPN can encrypt your data (everything you send over the dangerous world wide web) so that it cannot be intercepted by anyone. It can also hide your identity, your true location, your ISP (Internet Service Provider) and it will keep you protected. You SHOULD NOT be browsing the internet without one in these times with this technology available there is no reason not to use a VPN to become anonymous online.
For a list of some of the best VPN companies around we have already done the research for you. Our top picks are Strong VPN, Hide My Ass VPN, VYPR VPN, and Overplay VPN. For a full list of VPN services visit the VPN Services Page.
The 4 main benefits for using a Virtual Private Network are:
1. Hide your IP address and your true location.
2. Encrypt your traffic and all the data you submit online.
3. Access blocked sites (Social Networks, Game Sites, Adult Sites, Skype, MSN, Google chat etc).
4. Protect yourself from authorities who may want to find you.
The Dangers of not using a VPN
VPN Services
We have done all the hard work for you and found the TOP 7 VPN Services on the internet. (Click for reviews and information)
We get this question all the time, so here is a little explanation about why a VPN is better than a Proxy.
1. The traffic that comes from you to your subscriber through a proxy server is totally unencrypted which means all the data is open for sniffing, that any third party can read it in real time and find out exactly what you are doing.
2.The request issued by your browser to any domain name of the network is initially processed by DNS that retrieve the IP address of this domain name for you. Often such requests go through your proxy server which makes it very easy to locate your physical address.

3.The majority of proxy servers are transparent, which means that they do not conceal your IP address and you are not anonymous online.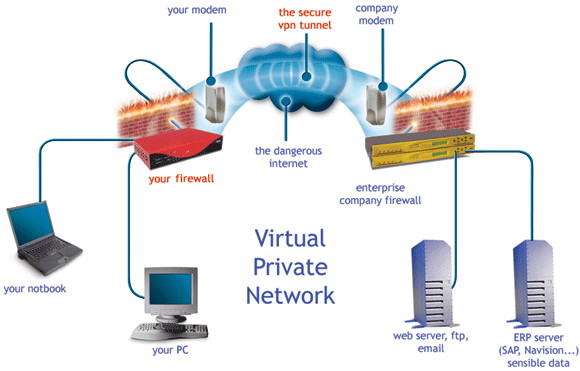 If that image is a little confusing, than here is a simplified version of how a VPN works by using a secure funnel.

If you would like to Learn More about how to hide yourself online or how to protect your identity than please visit the Internet Security section of the website.
If you would like more help in understanding the risks, need help setting any of the tools up or are looking for support then please visit the Forum and let us know what you need!